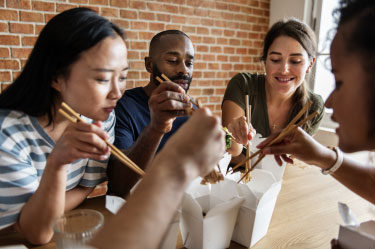 Mobile Menus – And, We're Not Talking About Smartphones
The fast-casual restaurant market has been hit hard with declining sales in the past few years. Part of the reason has been attributed to the 15%-20% tips expected in casual dining. Another reason is the fact many consumers prefer to stay at home. Even the increase in the use of Netflix and other streaming movie systems have contributed to keeping restaurant patrons at home. This has impacted many chains, some to the point of closing. However, there is a light at the end of the tunnel in the form of carry out.
Change isn't coming, it's here
You can read of the growth of carry out (sometimes called off-premise) dining throughout the industry. A recent article in Restaurant News noted that Olive Garden takeout orders were up 12%, BJ's Restaurants Inc. reported a 17% increase in the 3rd quarter of 2017 and Buffalo Wild Wings reports off-premise sales now represent 19% of total sales. There's a lot of potential for sales, you just have to be sure to capture them.
Following your customers home
No, we're not talking about stalking. When your customers buying habits change, your selling tactics need to change too. Customers who come in to your restaurant will see nice menus, table tents and other print marketing designed to drive profitable sales. Simple carry out menus sometimes fail before they even get out of the parking lot if a trash can is handy. Restaurants should realize the opportunity to use take home menus as effective marketing tools that would generate more return visits and compensate for the loss of inside sales. Menus printed in the back office on the copy machine or at the local quick printer need to be adapted to create profitable buying. This may mean more durable stock, full color printing and the use of menu optimization. Additional tactics may involve including removable coupons to drive frequency, referral cards or magnets to constantly promote the restaurant branding and contact information.
Summary
Consumers are staying home more and eating in restaurants less. Yet, a larger portion are choosing to combine their options by ordering carry out meals. This leaves the restaurant with an opportunity to maintain a sale and continue to drive repeat business. Well-designed take home menus combined with coupons, magnets and other tactics can help restaurants keep customers. Like normal menus, these should be designed using menu optimization to drive sales of the restaurants more profitable items.
About MenuWorks®
MenuWorks® was founded in 1994 with the mission of providing independent restaurant owners with affordably priced menus that were creative in design and unique in construction. Today, we offer a full turn-key experience that is unique to the market that can assist with all your menu & restaurant marketing needs. Our customer base now includes independent restaurant operators, multi-unit & franchise restaurant groups, hotel properties, and ad agencies located in the US, Canada, Mexico, Latin America, Central America, South America, and the Caribbean. From building and developing your brand, to maximizing menu profits, our team of consultants is here to help. Call us at 864-877-7007 today!