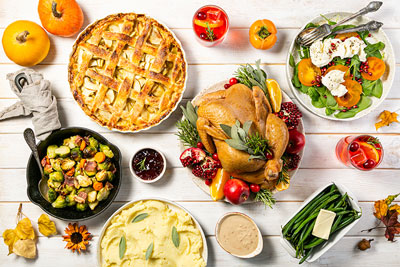 Make Your Seasonal Menus a Sensational Success
Although the summer just ended, now is the time to think about the HOLIDAYS! If your establishment offers special menus, menu items, and/or limited-time offers for Thanksgiving, Christmas, New Year's Eve, New Year's Day, and more, planning can help you drive traffic and increase sales during the busy holiday season to come.
Create enticing limited-time offers (LTOs) for all the holidays and be ready for the busy season spanning September to December. LTOs can start as early as September and run straight through New Year's Day. They can include September specials for Labor Day Weekend, Grandparents Day, and Rosh Hashanah; Columbus Day Weekend and Halloween in October; Thanksgiving in November, and all the December holidays – Chanukah, Christmas, Kwanzaa, right up through New Year's Eve, and New Year's Day on January 1st.
Offering customers special menus, seasonal dishes, and festive drinks centered around holidays appeal to them and benefits your bottom line. Effective promoting them is essential if you offer complete holiday dinners, special meals to-go, limited-time offers, or seasonal menu selections. Utilizing bright colors with crisp photography and/or graphics to create attractive menu materials is key to capturing your customers' attention – and orders!
Seasonal Sales-Enhancing Musts: Targeted Materials & Promotions
Pop-In Pages: Restaurants utilizing coil-bound menus can easily incorporate handy pop-in pages to promote their specialty menus and limited-time offers. Designed to simply and securely pop in and out of the coil binding to seamlessly integrate with your current menu, pop-ins can be switched out weekly, monthly, or seasonally.
Specialty Menus: Smaller folding menus calling out seasonal specials or single-page flats with weekly or monthly specials or LTOs can stand alone or slip into your main menu to add awareness… and sales.
Table Tanks: Also known as table tents, MenuWorks' more durable option garners immediate attention set on a tabletop, bar, or cashier's station; perfect for LTOs and holiday specials.
Coordinate Digital Efforts: Don't forget to include a word about LTOs and special meal offers on your website, social media, and via email to your customer base. These efforts work in tandem with your holiday-focused menus, pop-in pages, and table tents.
Print Advertising: Ads also work in tandem with your in-restaurant promotional efforts. If your establishment includes print ads in its budget, be sure to plan now for upcoming seasonal ad deadlines in local publications to promote your holiday meals and offers.
Your holiday and limited-time offer should not detract from your main menu, but rather complement it during these special times of the year. Additionally, LTOs used for the holidays -- or any time or season during the year -- enable you to keep up with current food trends, adding more appeal to your establishment and menu when you keep in step with new items that customers want to try.
Be a hit with your customers for the holidays! MenuWorks creates winning seasonal and holiday menus, LTO pop-in pages, and table tanks for restaurants of all sizes. To learn more about how we can provide turnkey services and expertise, including menu design and expert insights, contact one of MenuWorks' experienced account managers. Be sure to This email address is being protected from spambots. You need JavaScript enabled to view it. of specialty menus, table tanks, and pop-in pages, including ones created by our expert in-house design team, for reference and inspiration.